Welcome To my store
Customize Bridal Bridesmaid Prom Ball Evening Dress
We are a professional manufactory and trading company of wedding items--Wedding gowns, Bridesmaids Dresses, Prom Evening Dresses, Flower Girls Dresses, Chinese-Style Costume, Cheong-sam .
Our wedding dresses pursues comfortable and plain style. Its decent cutting displays the real body shape of the dresser. It could be plain and in good taste, or be sexy or charming. The splendid dress swings like a gust of fresh breeze that sprinkles the style know of people in cities. The wedding items contain connotation, elegance and self-confidence of personality in simplicity and fluency. They also blend pursuit of comfortable and natural life with vogue life.
Most of my produce sold to USA, UK, Australia, Netherlands, South Africa and other Asia Europe and Africa countries, so you will be very reassurance for my dresses quality , our tenet is low price but high quality.

Condition
Brand new/custom-made
Color
Custom-made
Size
Details measurements or US 2 to 28
Manufacture time
10-20 working days
Shipment & Postage
All of ours dresses will be sent by DHL or TNT, because the shipping cost to each country are difference, so please contact you local DHL or TNT office ask for the shipping cost, or contact us for the details cost before bid the items.
Main Fabric
Shipping times
4-7 days

Color may vary between different CRT and LCD screens , and have bit difference between in photos with actual dress ,these are usual, not error the fabrics color charts are take photo with the actual fabric. most of color are with bit color difference ,please contact us before order the dress if you couldnt accept any color difference .
Satin Fabric Color Chart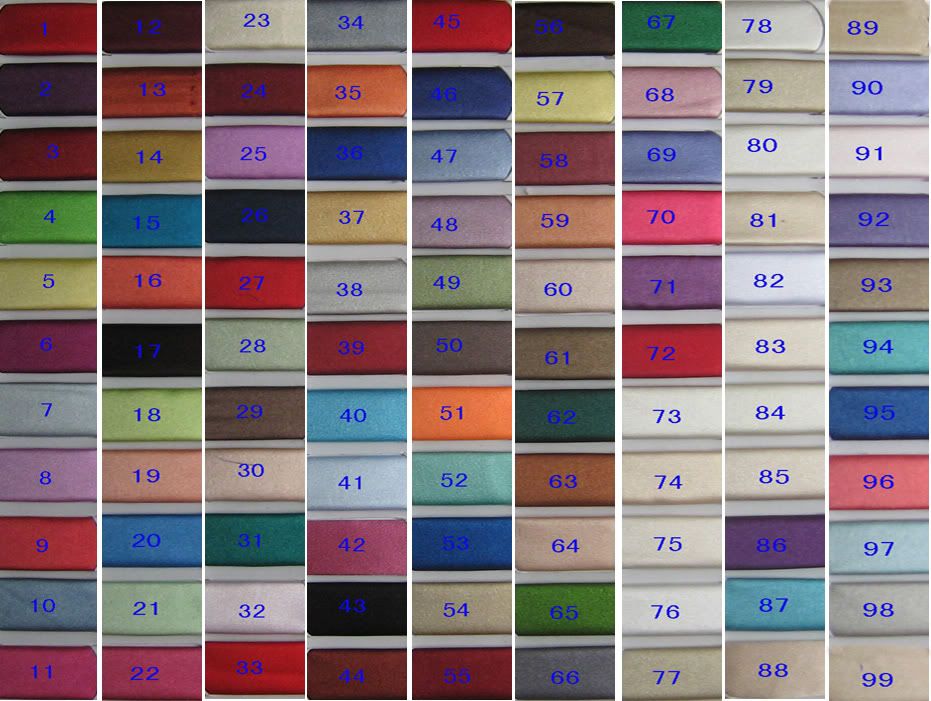 Chiffon Fabric Color Chart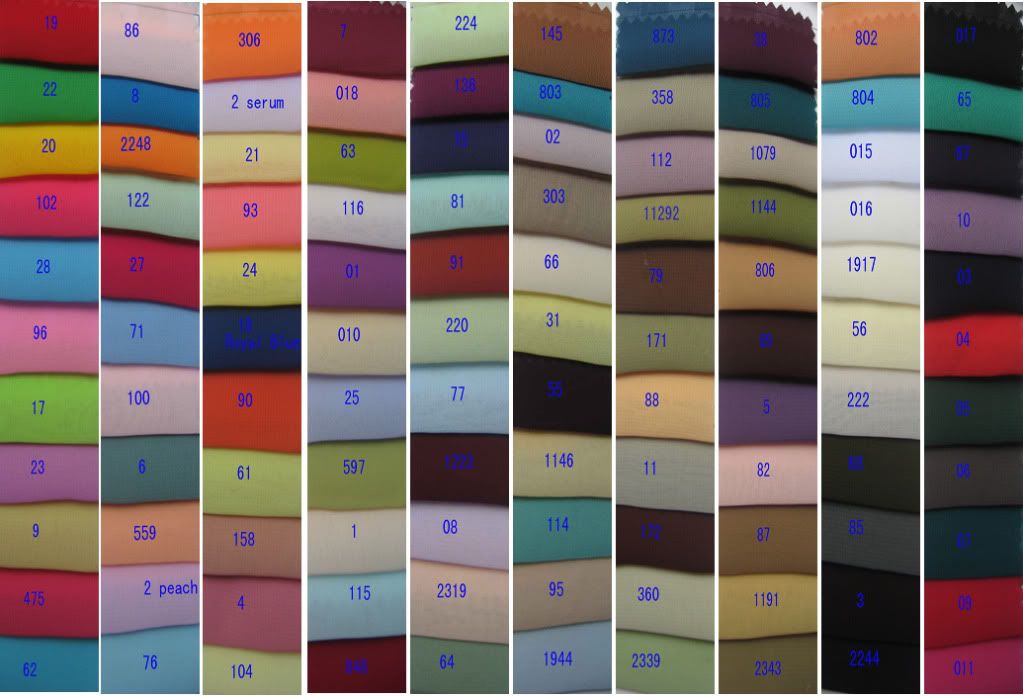 Elastic Satin Fabric Color Chart
Silk Fabric Color Chart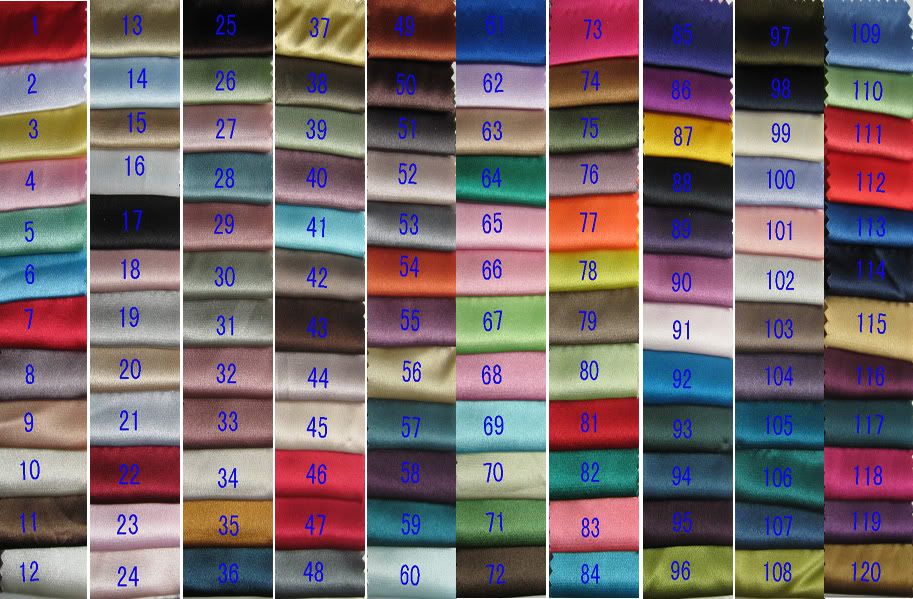 Organza Fabric Color Chart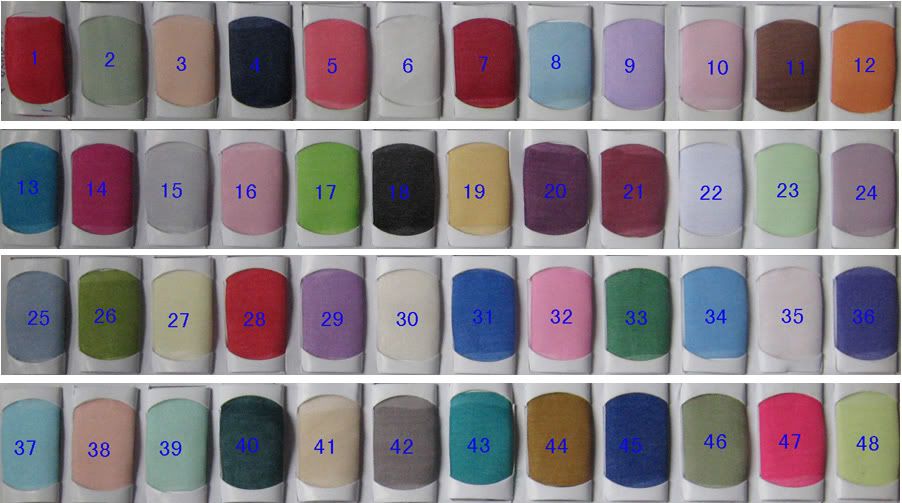 Taffeta Fabric Color Chart

| | | | | | | | | | | | | | |
| --- | --- | --- | --- | --- | --- | --- | --- | --- | --- | --- | --- | --- | --- |
| size | 4 | 6 | 8 | 10 | 12 | 14 | 16 | 18 | 20 | 22 | 24 | 26 | 28 |
| bust | 33 | 34 | 35 | 36.5 | 38 | 39.5 | 41 | 43 | 45 | 47.5 | 50 | 53 | 56 |
| waist | 25 | 26 | 27 | 28.5 | 30 | 31.5 | 33 | 35 | 37 | 40 | 44 | 47 | 50 |
| hip | 35.5 | 36.5 | 37.5 | 39.5 | 41 | 42.5 | 44 | 46 | 48.5 | 52 | 55.5 | 58.5 | 62 |
| hollow to hem | 58 | 58 | 58 | 58 | 58 | 59 | 59 | 59 | 60 | 60 | 60 | 60 | 60 |

Full Bust

around bust at fullest point

Waist

around waist at smallest point

Hips

around hips at fullest point

Nipple to nipple

bust point to bust point

Shoulder to bust

from the top of your shoulder down to bust point (nipple).

Shoulder to Waist

Remember that point on your shoulder. Well use that again and measure from there OVER your bust straight down to the ribbon on your waist

Outer Leg

from waist to floor WITH your shoes on.

Armseye

This measurement gives me the size of the sleeve hole that you are comfortable wearing. This measurement is entirely subjective and you can make it as deep or as tight as you are comfortable with

Shoulder to Shoulder

Now from the edge of that shoulder socket, measure all the way over to the same point on the other shoulder along the back

Neck

around neck loosely. You will not need this one unless your garment has a high neck and/or collar

Arm Length

shoulder point to wrist arm bent

Bicep

around arm at fullest part of upper arm

Upper arm length

Measure from outer shoulder down to elbow.

Armpit to elbow

Measure from armpit to eblow

Height

Measure from top head to floor, with shoes on
Necessarily measurements for each dress:<both ok for Inch or Centimeter>
Bust:
waist:
Hip:
Length from Shoulder to Bust:
Length from shoulder to Waist:
Outer leg:
Height:

we are an honest seller, we will try ours best to let you 100% satisfied order from us. but for custom-made, some dispute are couldnt avoid, please read below note before order the dresses, i think these can avoid parts of dispute for the order.
1. if possible , please to dress store try the similar style in your local, we will not accept return dress or refund if you think the dress style not suit you when you received the dress.
2. the color, please choose the color in color charts, but, the color show in difference Screens with bit color difference , the color in photo and actual fabric color , and the same in difference fabric are with bid color difference, please contact before order the dresses if you couldnt accept any bit color difference. we accept return dress if we make wrong the color but not accept return if the color is correct ,only with bit color difference.
3. the measurements, we can make the dresses according to your details measurements or standard size, please take the measurements strict via the size tables ,we measure all dresses before sent out, we will not accept refund if the dress not fit you, of course, if you confirm is we make wrong the size, please sent the pictures to me show the dresses measurements when you received the dress, we will refund or alter the dress. we can free alter the size even not we make wrong the size.
4. all the dresses are custom-made, the dress in picture are beautify with technique, with specially good effect when take pictures, and the dresses will according to your request size, color and other requirements to make, so all finished dresses couldnt 100% exact same as the pictures, we guarantee the whole dress can more than 95% same as picture, and the details for adornments more than 90% same as the picture, please dont order my dresses if you want the finished dress 100% exact same as the pictures, couldnt accept any difference ,
5. when you received the dresses, and not satisfied with the dresses, please contact us for the problems in 3 days when you received the dress, because dresses is especial merchandise , we will not accept any complain after 3 days you get the dress, the time we will calculate start from your sign for the package date.
6. we accept returned dress is we make wrong the size, color and you requirements ,we provide alter , parts payment refund, full payment refund method to resolve the problems order, please dont forgot contact us for the problems in 3 days when you received the dress, and any cast the buyer need pay the returned shipping cost.
7. Import duties, tax, and the charge cost for your custom house are not include in the dress cost or shipping cost, these cost are buyers responsibility, please contact your countrys customs document to find out the cost.
Feedback is very important for you and me, if you satisfied with our product and service , please leave me a positive feedback, if you dont satisfied with ours product and service, please dont leave Neutral or Negative feedback immediately, please contact us first, we will check whats happened for the order, and will try ours best to resolve the problems, after this, if you still not satisfied, leave Negative feedback is Not late .
Im an honest seller ,I hope you are a serious buyer.